When data loss occurs, you need a company with the technology and skills required to successfully get your data back as quickly as possible. ACS Data Recovery is that company. Data recovery is a specialty that very few companies are actually able to perform correctly. If you value your data, make absolutely sure you are using a reputable company.
We have successfully recovered over a million gigabytes of data, and we back each recovery with a 100% customer satisfaction guarantee. If we aren't able to recover your data, you pay nothing.
"Thank you ACS Data for recovering my entire manuscript"
John G. Hall: Author - Mickey Mantle: Before The Glory
"Thanks for recovering 4 years of Quickbooks files for our company"
Josh Miller - Chicago, IL
Hard Drive Data Recovery Services
We are one of the few data recovery companies that actually specializes in flood damaged hard drives. If your computer or external hard disk was damaged either due to an electrical surge or flood waters, we can help get your data back. With nearly a decade of professional data recovery services, we back all of our work by a 100% no data / no charge guarantee.
We can help in any of the following situations:
At ACS Data Recovery we recover data for some of the biggest corporations in the world. We work with government agencies, every branch of the military, defense contractors, major univsersities, health care facilities, law firms, you name it. We also work with everyday people who may have just lost their Quickbooks data, 3 years worth of family photos, or even their IPOD data. No matter what the situation, ACS Data Recovery can help you get your data back.
Video Project 1 - Full Data Recovery On A Seagate Hard Drive
We pride ourselves on being one of the only data recovery companies that will openly display our abilities to our customers. The videos on the right highlight the recovery process on 3.5" and 2.5" hard drives. Below is a video that was requested by a customer. She wanted us to video the entire recovery process on her drive, and we thought it would be a great way to show what exactly happens, so we seperated this case from the other work we were doing and documented nearly the entire process. This video is actually very representative of most recoveries we do. Not every case is cut and dry, most require multiple attempts using a variety of methods in order to get the data successfully. You are always at the mercy of the hard drive itself, and as shown here, you have to not only have the right equipment, but also the experience to make the right decisions in order to successfully recover data from failed hard drives.
Why Choose Us?
No Diagnostic Fees
No Evaluation Fees
No Data / No Charge We Only Get Paid If We Recover Your Data
No Gimmicks - Just Professional Data Recovery
Registered Dun & Bradstreet Company
Registered as an active vendor on the State of Texas Centralized Master Bidders List
Registered Trade Partner w/ CCR.GOV
Simplicity Combined With Great Service
We Service Home & Commercial Users
Most Data Recovery Completed In 3-5 Business Days
Download Your Most Critical Data From Our Servers
Expedite Service Available For Quicker Turn Around
1,000's Of Satisfied Customers
Flat Rate Pricing = No Surprises
10-Day Archive Of Your Data
Complete Confidentiality
Biometrically Protected Lab
Your Data Is Kept Safe and Secure At All Times
Don't Fall Victim To Data Recovery Scams

A lot of companies say they perform data recovery, but very few actually do. The unfortunate reality is, most of them operate just like the one in this video, and they make their living by taking advantage of unsuspecting consumers. For more information, read our report: "Choosing The Best Data Recovery Provider"

Just A Few Of Our Many Customers

• GE
• Nestle
• Raytheon Missle Systems
• Lockheed Martin
• St. John's University
• C.F. Bean
• SAIC
• St. Luke's Episc. Hospital
• Clorox
• Washburn University
• Xerox
• U.S. Bankruptcy Court
• TXU Electric
• 1st Pacific Bank of California
• Technicore
• Johnson Controls
• Lear Siegler
• Dell
• SportsfanOutlet.com
• University of Notre Dame
• University of Texas
• University of S. Carolina
• U.S. Army
• U.S. Marines
• Killeen I.S.D.
• Crystal City I.S.D.
• DOS Computers
• Naval Surface Warfare
• XAP Corporation
• Fig Leaf Software
• Louis Berger Group
• University of Missouri
• FlightSafety
• Motorola
• Naval Research Lab
• Hilton Grand Resorts
• DynCorp
• XFab - Texas
• Indiana University
• City of Ottawa KS
• Alemite
• Gyro Trac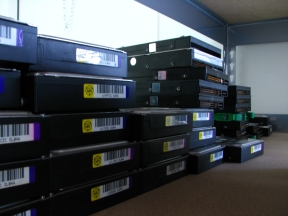 If your drive has failed, be careful how you proceed. Never try to run utilities that may write data to your drive. Writing data to a failed hard drive is the worst thing you can do. Avoid running any checkdisk or scandisk utilities.
If you decide to try and recover the data yourself via software, whatever you do, make sure you do not run the software from the drive you are trying to recover data from. Doing so can destroy data that may be perfectly recoverable. If your data is valueable, don't take chances. Call a data recovery professional now. We can help you understand what has happened to your drive, and in most cases we can give you a pretty accurate price quote over the phone. Once we receive the drive, we will then complete a thorough evaluation and let you know our findings and the exact cost of the recovery before we proceed any further. If you elect not to proceed, then there is no charge for the evaluation process. You have nothing to lose. Call today. 1-800-717-8974
Our main data recovery lab is located in central Texas (click here for our contact information), but we also receive drives from all over the world. You can find out more about submitting your drive for recovery here. Since 2003 we have provided our services nationwide to clients all over the world including the following cities:
New York, New York - Los Angeles, California -Chicago, Illinois - Houston, Texas - Philadelphia, Pennsylvania - Phoenix, Arizona - San Diego, California - Dallas, Texas - San Antonio, Texas - Detroit, Michigan - San Jose, California -Indianapolis, Indiana - San Francisco, California - Jacksonville, Florida -Columbus, Ohio - Austin, Texas - Baltimore, Maryland - Memphis, Tennessee - Milwaukee, Wisconsin - Boston, Massachusetts - Washington, DC - Nashville, Tennessee - El Paso, Texas - Seattle, Washington - Denver, Colorado - Charlotte, North Carolina - Fort Worth, Texas - Portland, Oregon - Oklahoma City, Oklahoma - Tucson, Arizona - New Orleans, Louisiana - Las Vegas, Nevada - Cleveland, Ohio - Long Beach, California - Albuquerque, New Mexico - Kansas City, Missouri - Fresno, California - Virginia Beach, Virginia - San Juan, Puerto Rico - Atlanta, Georgia - Sacramento, California - Oakland, California - Mesa, Arizona - Tulsa, Oklahoma - Omaha, Nebraska - Minneapolis, Minnesota - Honolulu, Hawaii - Miami, Florida - Colorado Springs, Colorado - Kansas City, Kansas - Hampton, Virginia - Lakewood, Colorado - Vancouver, Washington - Killeen, Texas - Temple, Texas - Georgetown, Texas - Round Rock, Texas - Fort Hood, Texas -