Getting Your Data Recovered Is As Easy As…


Call For A Quote
—————————–
It all begins with a simple phone call to our lab:
1-800-717-8974
.  We will do our best to diagnose your problem as much as we can on the phone, and give you accurate pricing estimates based on the type of media you have and the symptoms exhibited.

Ship Your Media
—————————–
After you receive an estimate, you simply
Click Here To Establish Your Case in our ticket system
and ship your media to us. There is absolutely
no
charge
for the initial evaluation. Once completed, we will confirm the cost and get your authorization before attempting recovery.
Hard Drive Recovery Services
Since 2003 ACS Data Recovery has been restoring lost data for clients worldwide. If you need professional data recovery services, we are here to help. Hard disk recovery, recovering deleted files, restoring lost data from failed RAID arrays are all routine services for our company. We can work with all brands and model hard drives, including Seagate, Western Digital, Hitachi, Fujitsu, Toshiba, and many others. We are the hard drive recovery professionals you need.  We will exhaust every possible option in our effort to recover your lost information. With our certified Class-100 clean room environment, and our fully equipped lab, we can tackle the most extreme cases of media failure. These include damage due to fires, floods, and catastrophic accidents. If we can't recover your information, then no one can.  All of our work is backed by a 100% customer satisfaction guarantee.
The Security Of Your Information Is Our Top Priority
In today's world, data security and privacy are more important than ever, and keeping your information secure is a top priority to us.  Data security is actually even more important to us than recovering data, and we go above and beyond to make sure your data is safe and secure at all times.  Everyone wants their private information kept safe. It doesn't matter if you're a large hospital with thousands of patient records, a celebrity, or a stay-at-home mom with years of family pictures. Privacy and confidentiality is a paramount concern for our company. We guarantee privacy, our services are HIPAA compliant, and we will sign any additional non-disclosure agreements that may be necessary prior to the start of your recovery.  We maintain an environment where there is a 0% chance your sensitive data would ever be compromised through network intrusion.  In addition, our lab remains locked and secured 24 hours a day / 7 days a week, and all hard drive recovery and RAID recovery services are completed in-house.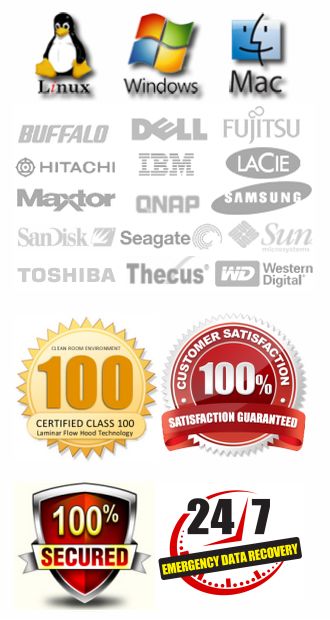 ---

ACS Data Recovery is one of the most trusted names in the industry. Our experience, reputation and commitment to excellence has enabled us to help thousands of customers retrieve their lost data. Our mission is to provide you the best service possible.
---
Data Recovery Services We Offer
Hard Drives

Hard drive recovery services for any brand hard disk. Drives that are clicking, have been dropped or even more serious issues such as flood or fire damage.

RAID Recovery Services

RAID recovery is our specialty. It doesn't matter what level RAID array you have, or file system used, we can retrieve the data from your failed server.

Laptops

We take laptops and tablets everywhere, which means they are very susceptible to suffering a hard drive crash. We recover data from all laptops.

Portable Media

Even though small flash drive have no moving parts, they can still fail. We can work on pen drives, compact flash, USB thumb drives, and more.

---
Retrieve Email

Time is usually of the essence when it comes to email data recovery. Companies live by their communication system and we help restore what was lost.

Logical Recoveries

Logical data recovery essentially encompasses anything where a virus, accidental format, corruption or deletion has damaged files and file structures.

Digital Media

From digital pictures to studio music sessions to major film projects. Few things are worse than losing years of memories or work from your digital device.

Database Restoration

Quickbooks data recovery, SQL, Exchange and other database repair work can be difficult and time consuming. Often needing to be rebuilt manually.

What Our Customers Say…

Over

5,000

satisfied customers have entrusted us for their data recovery needs.
"I called half a dozen data recovery companies before I called ACS. We needed a recovery on a failed RAID 5 file server that had been partially submerged in water after super storm Sandy hit our shore. Our entire company was at a standstill without that data. I felt comfortable about working with ACS after discussing the dilemma we were facing, so we awarded them the job and I crossed my fingers that they could get our data recovered. It took a little longer than we had hoped, but with 5 water damaged hard drives, I could appreciate the enormity of the task. They came through for us perfectly. We were able to retrieve 100% of our data. Well worth the expense, and highly recommended." – Alan Wilkerson


Data Recovery Services
September 30, 2019