Getting Your Data Recovered Is As Easy As…


Create Your Case
—————————–
Start by creating your case in our ticket system
HERE
.
Affordable Data Recovery
Data recovery can be expensive. Hard drives are some of the most technically challenging devices in the world. If you lose critical data due to a hard drive failure, your normal computer repair or IT technician isn't going to be of much assistance. That is why we have a long list of IT service providers who use exclusively use us for all of their data recovery needs.
Recovery prices vary greatly depending on the size of the drive and the type of failure that has occurred.  There are no evaluation fees and there is no charge if the data is unrecoverable.  To get started, simply create your case in our ticket system and ship your storage device to us.
To see how easy it is to create your case, check out the video below…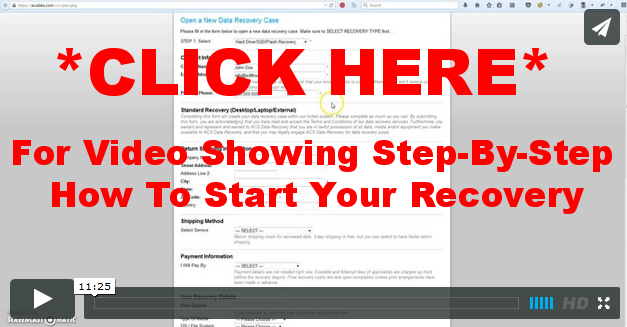 About Our Company
Since 2003 ACS Data Recovery has been restoring lost data for clients worldwide. If you need professional data recovery services, we are here to help. Hard disk recovery, recovering deleted files, restoring lost data from failed RAID arrays are all routine services for our company. We can work with all brands and model hard drives, including Seagate, Western Digital, Hitachi, Fujitsu, Toshiba, and many others. We are the hard drive recovery professionals you need.  We will exhaust every possible option in our effort to recover your lost information. With our certified Class-100 clean room environment, and our fully equipped lab, we can tackle the most extreme cases of media failure. These include damage due to fires, floods, and catastrophic accidents. If we can't recover your information, then no one can.  All of our work is backed by a 100% customer satisfaction guarantee.
The Security Of Your Information Is Our Top Priority
In today's world, data security and privacy are more important than ever, and keeping your information secure is a top priority to us.  Data security is actually even more important to us than recovering data, and we go above and beyond to make sure your data is safe and secure at all times.  Everyone wants their private information kept safe. It doesn't matter if you're a large hospital with thousands of patient records, a celebrity, or a stay-at-home mom with years of family pictures. Privacy and confidentiality is a paramount concern for our company. We guarantee privacy, our services are HIPAA compliant, and we will sign any additional non-disclosure agreements that may be necessary prior to the start of your recovery.  We maintain an environment where there is a 0% chance your sensitive data would ever be compromised through network intrusion.  In addition, our lab remains locked and secured 24 hours a day / 7 days a week, and all hard drive recovery and RAID recovery services are completed in-house.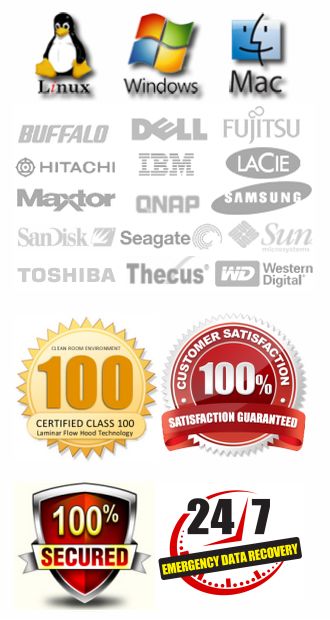 ---
ACS Data Recovery is one of the most trusted names in the industry. Our experience, reputation and commitment to excellence has enabled us to help thousands of customers retrieve their lost data. Our mission is to provide you the best service possible.
---
Data Recovery Services We Offer
Hard Drives

Hard drive recovery services for any brand hard disk. Drives that are clicking, have been dropped or even more serious issues such as flood or fire damage.

RAID Recovery Services

RAID recovery is our specialty. It doesn't matter what level RAID array you have, or file system used, we can retrieve the data from your failed server.

Laptops

We take laptops and tablets everywhere, which means they are very susceptible to suffering a hard drive crash. We recover data from all laptops.

Portable Media

Even though small flash drive have no moving parts, they can still fail. We can work on pen drives, compact flash, USB thumb drives, and more.

---
Retrieve Email

Time is usually of the essence when it comes to email data recovery. Companies live by their communication system and we help restore what was lost.

Logical Recoveries

Logical data recovery essentially encompasses anything where a virus, accidental format, corruption or deletion has damaged files and file structures.

Digital Media

From digital pictures to studio music sessions to major film projects. Few things are worse than losing years of memories or work from your digital device.

Database Restoration

Quickbooks data recovery, SQL, Exchange and other database repair work can be difficult and time consuming. Often needing to be rebuilt manually.

---
How To Repair A Hard Drive
Hard drive repair is a complex procedure that not only involves removing and replacing failed components, but it also involves properly diagnosing the failure. A hard drive can have multiple failures, and sometimes it can have these failures simultaneously.  For example, you may have a weak or failing set of heads that write corrupted data to the system area of the hard drive.  When that happens, even if you replace the heads perfectly, you will still be locked out of the data due to the firmware corruption.
In some instances a hard drive will appear to have crashed physically, but it can be a result of something firmware related.  When a hard drive powers up, it has to seek and find specific data on the platters that matches up with the information stored on the PCB (the logic board on the back of the hard drive).  If it cannot find this data, then the heads may repeatedly seek back and forth until the drive errors out and powers down.  So it may sound like a physical hard drive crash, but in reality, it is a firmware issue.
When we recover data from failed hard drives we have a flow of work that involves…
Diagnosing the type of problem that has occurred
Making any repairs that are necessary
Analyzing and backing up system area modules
Cloning or imaging the hard drive (making a sector-by-sector copy)
Working from the cloned copy to regenerate the file system and recover the lost data
Data recovery may seems simple at first glance, and if you have the knowledge and experience needed, it is not incredibly difficult.  However, it can be time consuming and it does require a fully equipped lab that allows the recovery work to be completed efficiently.
Hard drive recovery can be expensive, and for many people it seems like very easy work. However, there are very few qualified companies out there that can actually do it.  When you retain a company to recover your data from a failed hard drive or RAID array, you have to keep in mind you are utilizing equipment that would cost you thousands of dollars to obtain and you are using the years of experience technicians have gained while performing non-stop research and development on new data recovery techniques.
Secure Data Recovery
It's only natural to have some concern that your personal and confidential data may be viewed by others during the data recovery process.  Here is how our process works and how we keep your data secured.
Only one technician works on any given recovery from start to finish
The way we see your data, is not so much in a visual context, but more the raw HEX values
We do not network any of our recovery servers, so there is no outside access to your data
We do not upload your data to any outside servers
We adhere to the same security protocols for all customers…home users, defense contractors, health care providers, etc.
Hard drive recovery and RAID data recovery can involve the exposure of a lot of sensitive data.  The privacy and protection of your data is something we do not take chances with.  Whether you are looking to get your personal family photos recovered or you are a major hospital with patient records, we recover data in a secure and safe environment that does everything humanly possible to keep your data protected.
What Our Customers Say…

Over

5,000

satisfied customers have entrusted us for their data recovery needs.
"I called half a dozen data recovery companies before I called ACS. We needed a recovery on a failed RAID 5 file server that had been partially submerged in water after super storm Sandy hit our shore. Our entire company was at a standstill without that data. I felt comfortable about working with ACS after discussing the dilemma we were facing, so we awarded them the job and I crossed my fingers that they could get our data recovered. It took a little longer than we had hoped, but with 5 water damaged hard drives, I could appreciate the enormity of the task. They came through for us perfectly. We were able to retrieve 100% of our data. Well worth the expense, and highly recommended." – Alan Wilkerson


Data Recovery For Hard Drives and RAID
October 2, 2021