The initial evaluation is 100% FREE on all types of media and RAID arrays. So you are under no risk or obligation by sending your storage device to us for a professional diagnostic. In most cases we won't know exactly what is wrong, or what the final cost of the recovery would be, until we've seen the device and determined what type of failure has occurred and the extent of the damage.
To get your recovery started, just click HERE to establish your case in our ticket system.  All information submitted is secured and encrypted by a secure socket layer (SSL) for your protection.
By submitting the form and creating your case, you are acknowledging that you agree to and accept the Terms and Conditions of our data recovery services.  When you submit the form you will be issued a case number and receive shipping instructions. If you have any questions at all, please do not hesitate to call us at 1-800-717-8974. We are happy to help.
Please note…we only accept recovery work from customers based in the United States.
CLICK HERE OR THE IMAGE BELOW TO START YOUR RECOVERY
---
To see how easy it is to create your case, check out the video below…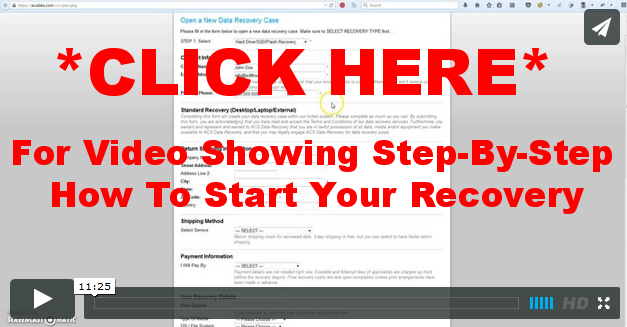 Create A New Data Recovery Case
March 24, 2015