The services you ("Client" or "you") are requesting will be performed under the following terms and conditions as set forth by ACS Forensics, Inc. dba ACS Data Recovery hereby referred to as "ACS Data Recovery" and also referred to as "Provider". All hard drive evaluation and data recovery work is performed by Provider within their lab. This constitutes the entire agreement between you and the data recovery Provider. ACS Data Recovery must approve any modification to this Service Agreement in writing.
1.You hereby engage Provider and/or its suppliers to use all commercially reasonable efforts to determine the existence and extent of recoverable data on your media ("Evaluation") and retrieve and/or provide access to your recoverable data ("Data Recovery") (collectively, the 'Engagement')
2. Information contained in your data/media ("Client Information") will be used by Provider only for the purpose of fulfilling this Engagement, and will otherwise be held in confidence by Provider. These confidentiality obligations shall not apply to any information which enters the public domain through no fault of Provider, which was known to Provider prior to receipt from you, which is disclosed to Provider by a third party (other than employees or agents of either party) which to Provider's knowledge in making such information available to Provider is not in violation of any confidentiality obligation to you, which is independently developed by Provider without recourse to the Client Information, or which is used by Provider in any legal process. This confidentiality agreement may be breached by Provider at any time when Client Information is found to contain data such as child pornography or information that is detrimental to national security.
3. You will be given, and upon acceptance and successful recovery, charged a quoted Data Recovery Fee and you agree to be responsible for all media, shipping and handling charges and all risk of loss during shipping. You agree to pay all charges quoted, plus any applicable shipping charges, as well as taxes and similar charges. No services will be performed and no charges incurred unless you consent by executing this Service Agreement. Additionally, in the event data is deemed unrecoverable or you decide not to proceed with the data recovery effort, you agree to pay all shipping charges associated with the return of the unrecoverable media to you. In the event you decide not to have your media returned, or you fail to provide payment for return shipping, the media/data/equipment will be destroyed 30 days after any evaluations or recovery attempts have been completed.
4. You acknowledge that the media/data/equipment you are making available to Provider is already damaged, that data recovery efforts can potentially result in further damage, and that Provider is not responsible for this or any other type of damage, including damage to or failures by equipment or media furnished by Provider.
5. You warrant and represent and warrant to Provider that you are in lawful possession of all data, media and/or equipment you make available to Provider, and that you have a lawful purpose to engage Provider for the Engagement. If you are requesting any Deletion services of any kind whatsoever, you hereby warrant and represent that such data is not involved in any current or anticipated legal proceeding, investigation or government inquiry. You agree to indemnify and hold Provider harmless from any and all claims, liabilities, costs (including attorneys' fees) and damages of any kind related to this Service Agreement.
6. You agree that Provider grants no warranties regarding its services of any kind, and all services are provided on an "as-is" basis. Any issues regarding recovered data (either data corruption or incomplete recoveries) must be addressed within 10 days of the completed and shipped recovery. After 10 days your recovered data will be qualified as acceptable, and it will be removed from our servers. Any additional recovery attempts will be subject to additional recovery charges. Provider will focus on the file types or specific file names you specified when your case was created. If no specifications are made then a generalized recovery of all available data will be made and this may or may not include data that may be deemed desirable by you. ALL IMPLIED WARRANTIES (INCLUDING THE WARRANTIES OF MERCHANTABILITY AND FITNESS FOR A PARTICULAR PURPOSE) ARE DISCLAIMED.
7. Provider WILL NOT BE LIABLE FOR ANY DAMAGES WHATSOEVER, WHETHER DIRECT, INDIRECT, INCIDENTAL, CONSEQUENTIAL, SPECIAL, PUNITIVE, OR EXEMPLARY (INCLUDING, WITHOUT LIMITATION DAMAGES FOR LOSS OF BUSINESS PROFITS, BUSINESS INTERRUPTION, LOSS OF BUSINESS INFORMATION OR DATA, AND THE LIKE) ARISING OUT OF THE SERVICES OR DELIVERABLES PROVIDED HEREUNDER, EVEN IF ACS DATA RECOVERY HAS BEEN ADVISED OF THE POSSIBILITY OF SUCH DAMAGES.
8. Any consent required of either party will be effective if provided in a commercially reasonable manner, which includes without limitation email or facsimile, and/or verbal authorization if followed by written confirmation at the earliest possible opportunity. Provider will store your data for 10 business days after your recovery has been completed. After such 10 business day period, Provider will permanently delete your data. Upon request, Provider can remove recovered data sooner.
9. Should your data be deemed completely "Unrecoverable"; or you simply elect not to have your data recovered, return shipping charges and expedite fees (if applicable) will remain your responsibility. Unrecoverable" means that there is mechanical failure or severe data corruption in the media that precludes access to any data on the media by any means within Provider's capability. This definition does not apply in cases where 'desired' data, that was not originally specified within this Service Agreement is not present. All external enclosures, plastic housings,  accessories and anything else that is unnecessary to complete the recovery will be discarded. Any media that is left within Provider's lab for a period of greater than 30 days after the final recovery effort has been made, and you have been notified that the recovery effort has been completed, will be deemed abandoned and will be destroyed.
10. Payment is due in full upon completion of services unless prior arrangements have been made (i.e. PO issued).  If a payment is made via credit card and is charged back due to a reported fraudulent transaction, a 15% fee will be added to the final cost of the recovery.  If the recovery has already been shipped and verified received through the shipping carrier, then we will pursue theft of services charges and will prosecute to the fullest extent of the law.
---
To begin your recovery click HERE.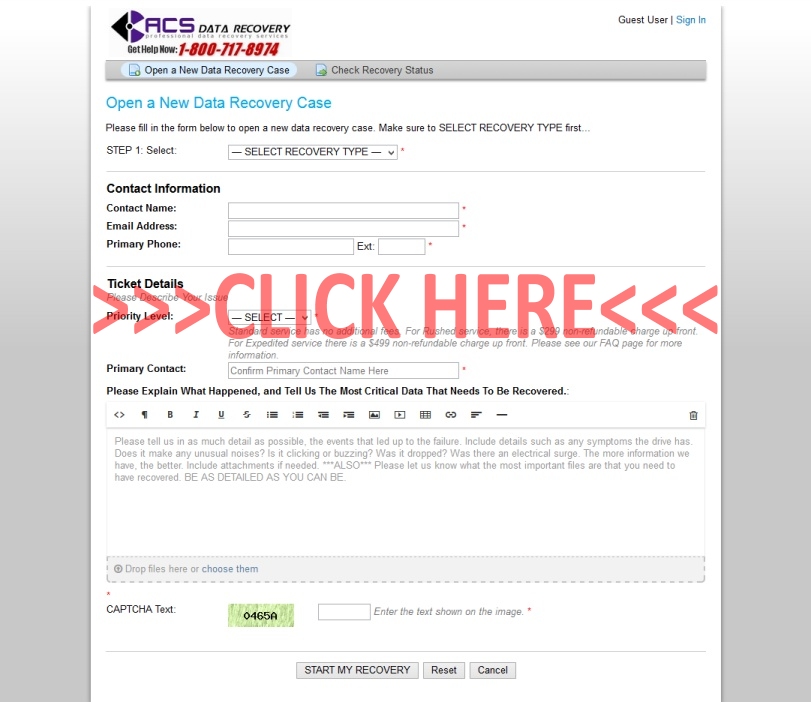 Terms and Conditions
May 30, 2014