How Does Your Service Work?
We know that losing data can be VERY stressful. A lifetime of pictures can be lost, important company data, and sometimes it can lead to someone's job being on the line if it can't be recovered. We make the recovery process as simple as possible.  To get a complete overview CLICK HERE.  In summary, you would start by creating a new data recovery case, and then you would ship your storage device to our lab. Once we receive your media, we complete a thorough evaluation at no charge. We then confirm how we need to proceed and the costs associated with your recovery should it be successful.  That price is set in stone, so you don't have to worry about it increasing if your case ends up being more difficult.  We wait for your authorization to proceed, and then move forward with the recovery when we get your OK.  If you decline the recovery after the evaluation that's no problem. Just pay for the return shipping and we send your storage device back to you.  Once the recovery is completed, we ship the data back to you on a new external hard drive.
What Should I Be Looking For When Shopping For Data Recovery?
You want a lab that has a solid reputation with the experience needed to work on a wide variety of failures for various storage devices.  Data recovery does not appear to be complex when looking at it from the outside, but it requires extensive knowledge, experience and specialized equipment that is either custom built or extremely expensive to purchase.
Any reputable company will offer free evaluations and not charge you in most cases if the data is unrecoverable. Our company has been recovering data successfully for clients worldwide since 2003.  We only get paid if we can actually recover our customer's data…so we have to be very proficient at what we do in order to stay in business.  Even if you decide not to go with us, just make sure you go with a reputable company.
How Do You Compare To Other Companies Like DriveSavers, Ontrack, etc.?
One thing you won't get from us is the false sense that we are the only real data recovery solution out there. We have been successfully recovering data for clients worldwide since 2003, and the truth is, there are many good companies.  When it comes down to the technology and methods used, it's all mostly the same. So what we won't do is waste time disparaging other companies because there's really nothing bad we can say about the other reputable companies that are out there.
With regard to how we compare to DriveSavers or Ontrack specifically, we are comparable in every way when it comes to methods used to retrieve data from failed hard drives and RAID arrays.  Differences will definitely be in the pricing structure. We are a smaller company, with less overhead, so our pricing model is going to be a bit lower than either of those companies. Also we never charge an evaluation fee on any type of storage device, and in most cases there are no attempt fees if the data is unrecoverable.
Do You Have The Same Certifications I See Other Companies Advertise?
A common marketing practice today among data recovery companies is to list the number of certifications they have. The reason is to give you a sense that they are somehow more qualified to perform data recovery work. The reality is, almost none of those certifications have anything at all to do with their data recovery standards or capabilities. You can read more about certified data recovery here.
How Much Does Data Recovery Cost?
Costs depend a lot on what needs to be recovered, and the type of failure that has occurred.  Some companies may claim they can recover data from any type of drive for $200 or $300 but that is not the reality.  Hard drives are extremely complex, and they require a great deal of expertise and knowledge.  If your data is irreplaceable, you have to take into account what the ultimate cost will be if it is permanently lost.  If your media has come to the point where it is no longer being recognized, or it is making unusual noises, then you have to utilize a professional service to get your data back. We are more than happy to discuss your situation in more detail and give you an accurate quote over the phone. Data recovery prices have not really decreased over the last decade, and in fact, they have actually started to rise as the complexity of newer drives increases.
Do You Charge Any Additional Fees?
In most cases, the cost you are quoted is all inclusive, and we never charge an evaluation fee on anything.  This means in most situations the recovery includes return shipping and the destination media.  The only exception to this is if you need a drive bigger than 2TB or you prefer to have the data returned to you via a faster shipping method.  There are also optional fees, such as Expedite services if you need your recovery completed as quickly as possible.
How Long Does Data Recovery Take?
The time required to complete a recovery varies greatly.  On average you can expect between 5 to 7 business days for our Standard Service, but much of the time required depends on the condition of the media being recovered.  We've had recoveries that have required as much as a month or more to complete.  Expedited recoveries can be completed much quicker, but even those are still subject to the condition of the media and physical limitations.
Do I Still Pay Even If My Data Is Not Recovered?
No. In most cases there is no charge if the data is not recoverable, other than return shipping if you want the media returned. We never charge an evaluation fee, and the only time we charge an attempt fee is in situations when the media has already been opened prior to our receipt, or in cases where we are dealing with complex RAID arrays with more than 6 hard drives.  The attempt fee is then charged up front, and if the data is recovered, that amount is credited towards the recovery cost.  It's not an additional fee.
I Don't See My Brand Drive Listed On Your Website. Can You Still Help Me?
Yes.  We can work on any type of hard drive, any brand, any model.  This also goes for various types of RAID arrays.
Can't I Just Put My Hard Drive In The Freezer To Recover The Data?
This has been a long standing myth that goes back to the late 80's and early 90's. That was a method that was used to recover data from hard drives that operated in significantly different capacities than they do today. Check out this article and watch the attached video to see why putting your hard drive in the freezer is a bad idea.
What Is Your Success Rate?
This is probably the one question we get asked the most. "What is your success rate?" That is the one thing we tell most of our prospective customers to ignore, whether they want to use our services or not.  Success rates mean nothing, because there is really no way to verify them.  A company can say they have a 99% success rate, and you won't have any way of knowing if they are being truthful or not.
Our success rates greatly depend on the condition of the media before we even receive it.
Is there damage to the platters?
Has the drive been opened?
Have recovery attempts already been made?
Have any components been swapped out?
Is the data severely corrupted
All of the above are great examples of circumstances that can prevent data from being recoverable.
If the platters are damaged, there's nothing we or anyone else can do to recover your data.  So if we had 100 drives come in during the span of a week and 80 of them had scored platters…that would make our success rate a measly 20%.  On the other hand, if none of the drives had platter damage, most likely we'd be able to recover all of them and our success rate would be 100%.  Neither of those scenarios are likely, but they illustrate the flaws in using success rates as a means of determining the quality of a data recovery provider.
In This Video We Discuss Success Rates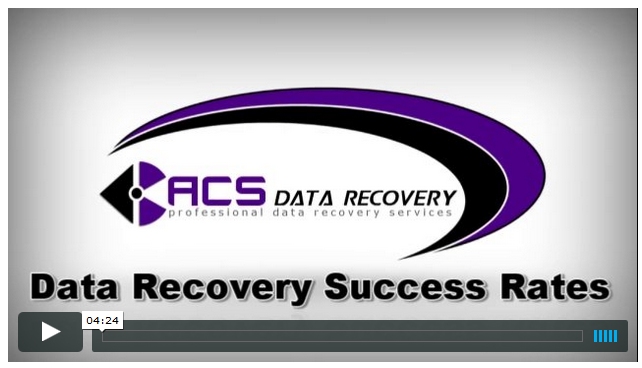 The best way to narrow down whether a company is competent is to look at how long they've been in business and whether they charge anything up front for a standard recovery.  Some companies say they don't charge an attempt fee, yet they charge $150 or more upfront for parts or "lab fees".  Any decent company will only get paid if they are actually successful at recovering your data.  ACS Data Recovery has been successfully recovering data from failed hard drives and RAID arrays for over a decade.  We don't get paid unless we can recover data successfully, so we have to be very proficient at what we do.
Do You Need My Whole Computer or Hard Drive Enclosure?
No, we definitely do not need your computer.  If possible, please have the drive removed from the computer before sending it in.  The same goes for hard drive enclosures.  The only time we ever prefer to have a hard drive enclosure is on some of the Western Digital MyBook drives, because the bridge controller may be needed since many of those drives are encrypted.  Otherwise, we simply remove the hard drive from their enclosure and discard any housings or accessories that are not needed for recovery purposes.
I Don't Live In The USA, Can I Still Send My Media In For Recovery?
We DO NOT accept recovery work from foreign countries.  We service US based customers only.  We will not accept shipments from: Afghanistan, Belarus, Burma, Central African Republic, China, Cuba, Cyprus, Democratic Republic of the Congo, Hait, Iran, Iraq, Lebanon, Liberia, Libya, Mali, North Korea, Rwanda, Somalia, Sri Lanka, Sudan, Syria, Venezuela, Vietnam, Zambia, Zimbabwe.  Again, make sure to contact us via email, or the form at the footer of each page before shipping your drive to us from outside the U.S.